Glorifying & Enjoying God
The heart of worship is a heart that enjoys God for who He is and all that He has done for us.
We are incredibly grateful for the partnership we have with OIT. We are able to utilize their parking for 51 of the 52 weeks a year. That allows us to have enough parking close by for our weekly Sunday services. This next weekend is their graduation and therefore the one weekend a year that the parking is not available. We are excited for those who are graduating this coming week and are happy to do church a little differently!
This weekend, as we are focusing on our rhythm of Worshipping: Glorifying and Enjoying God. We have the opportunity to practice this rhythm! Gather your home community, the families that represent your cohort, your family, friends, or maybe some neighbors, and pursue Jesus through worship.
You will find several resources on this page with ideas on how to use them individually and as a group. We love the weekly worship we share as we sing out our praise! This week is an opportunity to learn about and practice some other forms of worship.
This is not the first time we have done Church in Community! In January, we pursued Jesus in homes all across the south Portland area, following the example we see in Acts. This time around will be different, in that we have not provided host homes. If you are not connected in a home community or cohort yet, we encourage you to either invite some others in your life to join you, use this as a time for your family to pursue Jesus together, or spend the time alone with God. There is power in worshipping both with others and on our own.
Enjoy! And let us know how it goes! We'd love to hear the stories about how God met you in whatever way you choose to worship this week!
Message
1. When do you feel spiritually dehydrated?
2. What does drinking of the life of Jesus mean to you?
Jesus answered, "Everyone who drinks this water will be thirsty again, but whoever drinks the water I give them will never thirst. Indeed, the water I give them will become in them a spring of water welling up to eternal life."  - John 4:13-14
3. How does worship help you feel rehydrated or nourished spiritually?
4. Are there any negative cisterns you might be drinking from right now?
"For My people have committed two evils: they have forsaken Me, the fountain of living waters, to hew for themselves cisterns, Broken cisterns that can hold no water."  - Jeremiah 2:13 (NASB1995)
5. Looking at the worship assessment, which style of worship do you most connect to? Which one is more challenging for you?
Worship Songs
As you worship, ask yourself the following questions and journal your answers
What does this song say about God?

What does this song say about you?

Is there a situation in your life that this song would be an encouragement, an anchor, or a comfort?
1. As you worship along with the music, take a moment to reflect on some of the words we're singing. When we sing lyrics like "All Hail King Jesus", or "Jesus, you reign above it all", what are some real-life implications of what that might look like in our day-to-day lives (families, finances, workplaces, etc)? How are we applying Jesus' Lordship to our "ordinary"?
2. In some of our other songs, we declare God stepping in on our behalf and displaying a sign, wonder, or breakthrough. But sometimes those moments do not happen. What are some ways we can still apply these truths about the God of the Miraculous, even when we don't see them in the here and now, every time?
3. Our worship songs reflect a lot of really good "I" and "me" worship to the Lord. While corporate singing is important, in what ways can we further grow in worshipping together as a community beyond singing?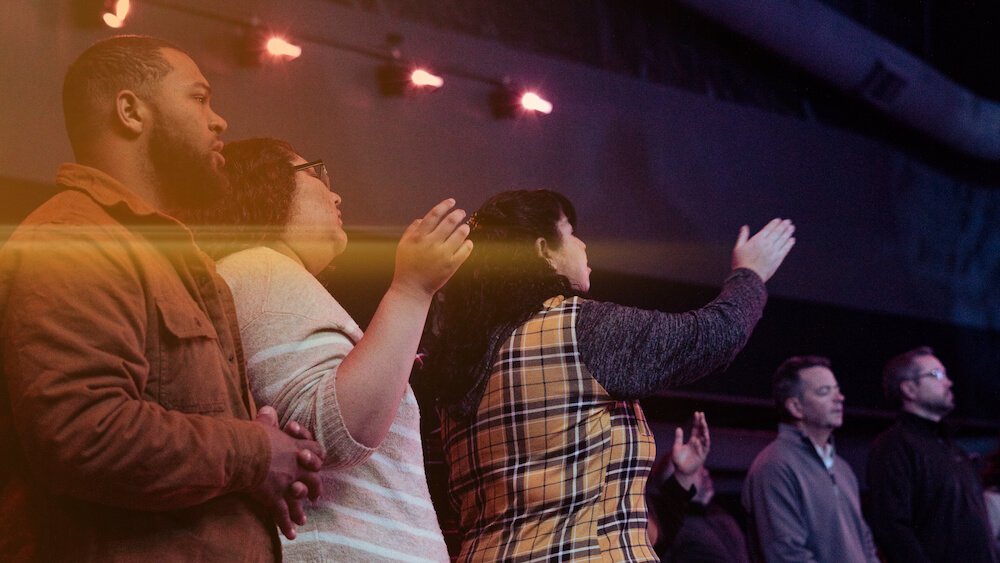 Worship Assessment
Use the assessment and attached information either as an individual or as a group! 
The way we most enjoy worshipping God is as vast as we are unique. Remember this if you are using this as a group. Many people will respond as a variety of different worship types. We suggest you have everyone in your group or family take the assessment in advance; before you gather this weekend. That way, when you come together there are questions posted with the assessment for groups!
Enjoy! And let us know how it goes! We'd love to hear the stories about how God met you in whatever way you choose to worship this week!